At 250 WPM this item takes 3 minutes to read.


South Meadows is a campground in Pike San Isabel National Forest five miles above Woodland Park, Colorado, which is about 25 miles up the Ute Pass from Colorado Springs.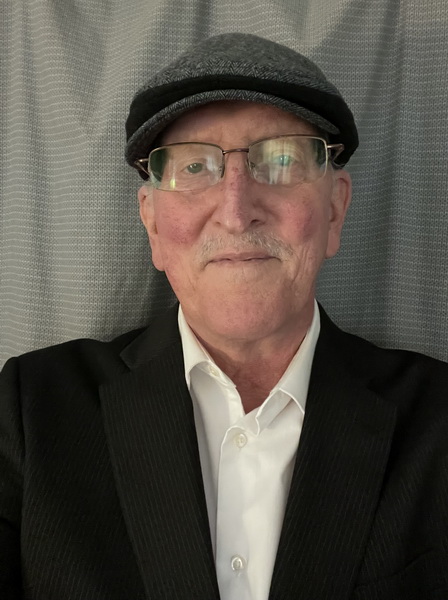 My wife, Marie, and I have camped there for a few years now, and each summer, we look forward to going there.
It is just off Highway 67 and has water and bathrooms only. There are 63 spaces, making it small enough not to be crowded, and most of the sites have lots of room between them. It is heavily wooded with pine trees, enough that the warning is given to owners of very large rigs that some sites cannot accommodate them due to trees.
We travel fairly light. We have the Ford Transit camper van and our Pilot, an overhead and chairs, food and cooking gear, and things for our little Shi-Tzu Zoe.
New this year is a "Three Second Tent" for Bill, so named because it is designed to go up in three seconds. We tried it, you lay it out, pull up the center, and badda boom badda bing, the tent pops out, ready to use. Put down the stakes in the corner,s and you are ready to go. We decided to give the tent a try because my long frame was making the Van a bit too crowded, and it worked out just fine. Once everything is set up, we can sit down and relax, as much as you can, with a 2 1/2-year-old rambunctious "puppy".
We brought along an enclosure for the Little Princess, which she did not much like at first, but is necessary when we have to do the set-up. When we are in our chairs, and with drinks in hand, we can look up at the towering pines, the blue sky, the sound of the wind in the trees, and feel the wonder of the forest.
The 8,200′ altitude air is good to breathe. The echo is remarkable, so the chop of an axe, the bark of a dog, or a burst of laughter from a nearby campsite wafts in with a foresty ambiance.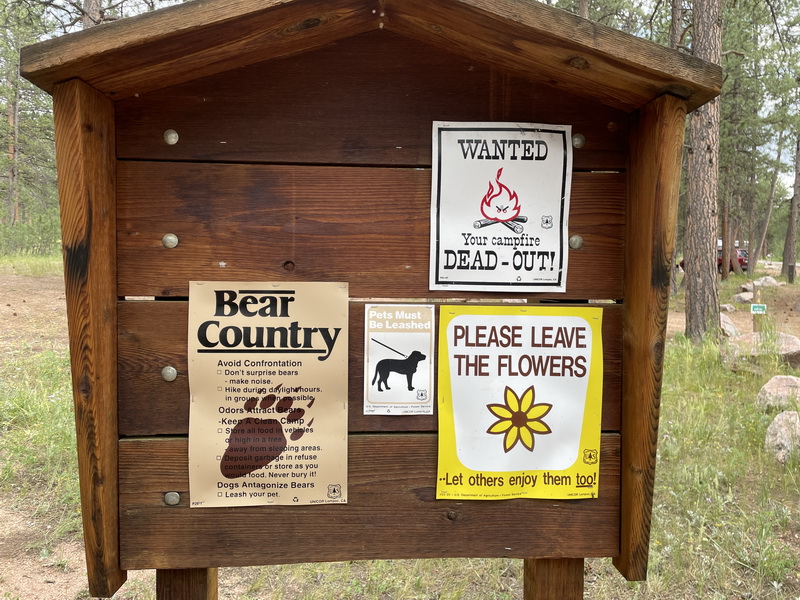 Our first day passed quietly. The night in the tent was good, I had a cot and a sleeping bag, and I read my book until I fell asleep. Marie and Zoe slept together, with Zoe waking Marie periodically to give her kisses. Marie could have used a few less kisses and more continuous sleep.
Marie loves Goodwill, so the next morning we dropped down to Woodland Park and spent some time looking through the bargains. Before the Goodwill, we stopped at Wendy's for a breakfast sandwich for Marie and a bag of their breakfast potatoes, a favorite of ours.
Back at the campground, we saw that Walmart has 9X12 RV outdoor mats, and our mats were too small, so back down to Walmart in Woodland Park (just 5 miles) we go and purchase the mat. We laid out the mat, and as we were admiring it, some clouds drifted over.
I suppose that a summer camping trip probably might have a weather event, we were hoping we could skip that part, but alas, the skies opened up. Started out with a little sprinkle, then a boom as loud as a cannon, loud enough to rattle your teeth, and mountain raindrops big and fat and cold and hard enough to hurt when they hit your head came down in sheets. Marie grabbed Zoe and made a dash for the van. When she got there, her foot slipped on the narrow step, and she fell forward into the van, banging both her shins and leaving bruises. I ran after her, and once inside, we sat and listened to those big raindrops pound the roof of the van. It went on for 30-40 minutes, then slowly began to stop.
We looked outside: blue skies, puffy white clouds, birds twittering.
Amazing. In the next hour, things dried off a bit, Marie brought out the hot dogs, the potato salad, the beans, the watermelon, and cookies, and we had our mountain picnic at last. Long about 7:30, we were tired, so we said our Divine Mercy prayer together, and I went into my tent.
The folks across the road had arrived that afternoon with their giant Fifth Wheel, looked like Grandpa and Grandma and boy and girl teenagers; we waved to each other. As I lay on my cot, I could hear the thump of a big stereo coming from across the way. Sounds like rap music. Ah, well. Quiet time in the campground is from 10pm to 6am so I hoped it wouldn't last long. Nope. Promptly at 10 pm, the music thankfully stopped and I drifted off.
In the morning, Marie made coffee, and we started packing up. The older I get, the tougher it seems to catch my breath with a lot of sudden activity. But I huffed and puffed, with Marie saying, "Sit down! Take a break!" and the two of us got it done. It's a lot of work, but well worth it to spend some time with God among His Creations.
Love and Prayers to All!